Sandra L. Young
An author sharing her passion for the performing arts and vintage clothing
Divine Vintage – A Novel
Coming February 21, 2022 from The Wild Rose Press
Vintage boutique owner Tess Burton is more intrigued than spooked when modeling an Edwardian trousseau gown opens her mind to witness a century-old murder – especially as her version disputes local lore. Fellow model Trey Dunmore isn't as thrilled at being engulfed in mind-blowing visions, but an electric connection with Tess and the appeal to clear his family's legacy compel him to join the visual dives. Aided by vintage clothing and titillating diary confessions, the couple seeks the truth about the crime of passion as aftershocks of emotions from the past threaten their own budding relationship.
(THE BUY LINKS BELOW ARE INACTIVE UNTIL THE NOVEL IS AVAILABLE FOR PRESALE. To be notified of presale, please fill in the box at the bottom of the page. Thank you!)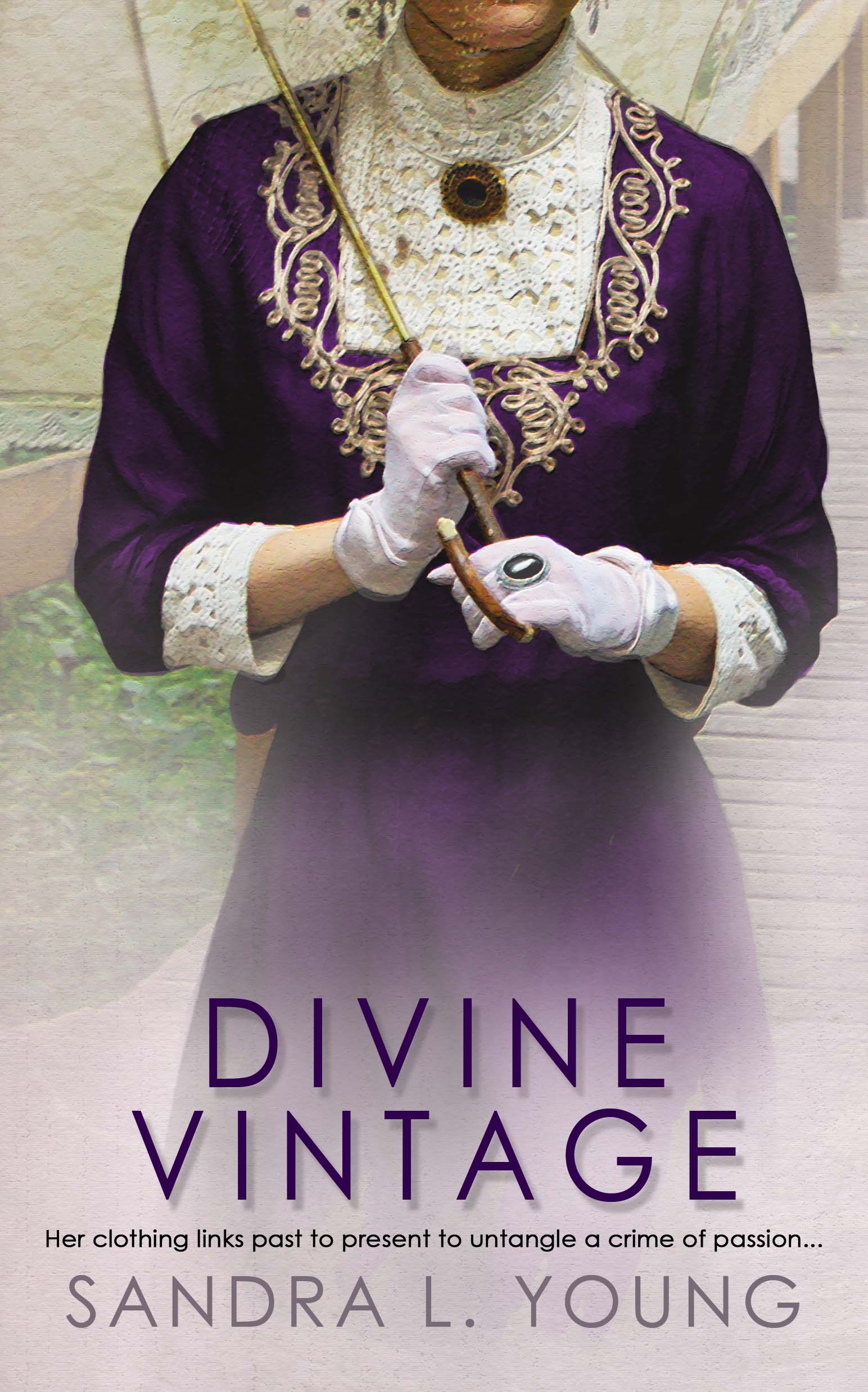 Praise for Divine Vintage
"In Divine Vintage, Sandra Young walks us back into time to a murder/suicide mystery in 1913 that will keep the reader as spellbound as the lovely vintage clothing the author so adroitly describes. Well-written and woven with enough sensual tension to strum any romantic's heartstrings, I give Divine Vintage FIVE STARS."
"Divine Vintage is the delightful story of two people drawn together by their corporeal connection with a pair of lovers tragically separated a century ago. Tess is a charming character whose open heart changes the lives of the people around her. She has the unique ability to forge her own future while holding on to the treasures of the past. Divine Vintage reminds us that the power of love can reach through time and space to bind people together."
"A captivating story that had me hooked from the first page, and kept me guessing until the last.  An excellent debut novel."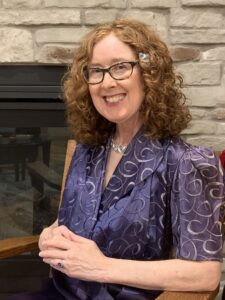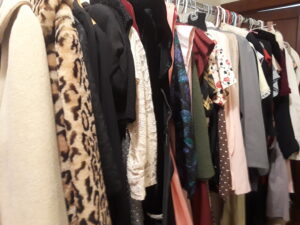 Devoted Vintage Enthusiast!
I fell head over heels for vintage clothing while acting in dozens of community theater productions. Through the years, I had fun growing my own sizable collection and I wear delectable items for special occasions and onstage. My finds span from balloon-sleeved Victorian blouses to fringed flapper dresses to 1980's funk. As the history and fashion spoke to me, they also drew out the seeds of a novel. I'm beyond thrilled that DIVINE VINTAGE will be published in early 2022 – release date TBD! In the meantime, I continue to pursue my passions of singing, acting, and volunteering in the lakeside communities of Northwest Indiana. I also carve out time to read novels by talented fellow writers while crafting the prequel to my debut. I hope you'll join me on this exciting journey to pay tribute to the wonder of vintage clothing!
Tess Burton, owner of Divine Vintage Boutique:

"I see vintage clothing as an art form making a strong historical statement. Changes in society, work, and leisure are reflected in styles and clothing choices through the eras. People in the 1850s thought Amelia Bloomer was a radical exhibitionist in her balloon-legged trousers. But when the cycling craze erupted later in the century, forward-thinking females leaped at the freedom and practicality."
Fashions from the pages of Divine Vintage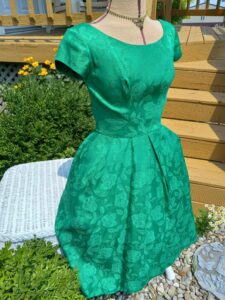 When Tess arrives at Carver House to model for the style show, she's greeted by Trey's mother in 1960s brocade. Clarice's sparkling personality and poise outshine this gorgeous number, which I picked up at our church treasure sale!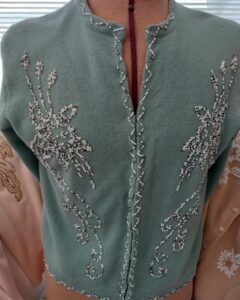 Beaded sweaters are mentioned several times in the novel. They're popular items at the store, leading Tess to buy a few when she visits an exotic city's flea market. (Guess where?!) I particularly love the pale aqua sweater above, which I bought years ago at an antique store.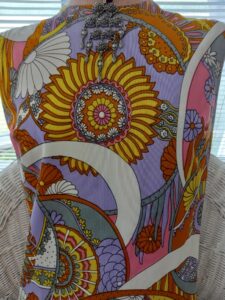 Tess' loyal assistant, Marcy, has bold, quirky fashion sense to mirror her artistic nature. She pairs this '60s mini with leggings and orange high-top sneakers. Actually, the polyester dress is knee-length and I put in a temporary hem to shorten it to max the cool factor.
Bookings: Vintage Presentations, Book Clubs, & Signings
Learn about the fascinating history of fashion since the Civil War Era. Clubs, organizations, church groups and museums have enjoyed this interactive program. I'm willing to travel within an hour to present in Northwest Indiana / Southwest Michigan – or to Zoom worldwide! When the novel is published, I'd also love to visit with your Book Club or attend signing events. Please contact me at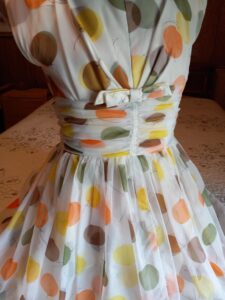 Share your email to receive a short story inspired by one of my vintage garments, for occasional author updates such as pre-sale links, and notice of giveaways. The first two-page story features the lovely '60s number in the photo!