Sandra L. Young
An author sharing her passion for the performing arts and vintage clothing
Divinely Dramatic COVER REVEAL!
Releasing February 5, 2024! Vintage fashionista Marcy Alexander reluctantly agrees to costume a community theater play and ends up with more drama than one girl can handle. While revitalizing her squelched artistic desires, she must harness her aura-reading ability to untangle a ghostly mystery from 1966.
After losing a bet with his prankster buddies, director Mike Figueroa's main goal is to bring off the best show possible. The artsy, fill-in costumer provides more hindrance than help as he's both drawn to and annoyed by her. Dogged by a persistent ghost, and an ailing mom who urges her to finally pursue her dream career, Marcy needs to solve the mystery from the past before she can figure out the riddles of her own heart.
Meanwhile, DIVINE VINTAGE – the first in the series – is available through numerous online retailers. Just click the links below to purchase. The third and final novel, The Ghostly Diva, will be published in summer 2024! I love to stay in touch to share updates with all readers and vintage lovers. Please subscribe at the bottom of the page to receive occasional newsletters, including a sweet vintage short story via the link that will appear on the page after you submit. Thank you!!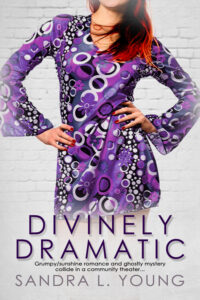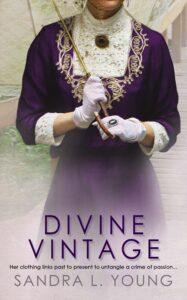 Praise for Divine Vintage
"In Divine Vintage, Sandra Young walks us back into time to a murder/suicide mystery in 1913 that will keep the reader as spellbound as the lovely vintage clothing the author so adroitly describes. Well-written and woven with enough sensual tension to strum any romantic's heartstrings, I give Divine Vintage FIVE STARS."
"The word that best describes everything Divine Vintage is elegant. The story telling voice is elegant, the weaving of time periods is presented with divine elegance, the description of lovely vintage clothing is texturally elegant, and the slow burn romance lends the elegance of lacy heat to the lovers' journey. To top it off the story moves at a wonderful clip through the mystery of a time-bending who-done-it."
"Ms. Young has penned a wonderfully romantic mystery featuring a sleuth with the ability to see into the past using vintage clothing. The characters are delightful, and I'm looking forward to the next book in the series!"
"What a great book! From the first page, I was totally engaged, enthralled, captivated…historical mystery, paranormal visions, and romance made for a wonderful combination that I couldn't put down. Looking forward to reading more by this author!"
"I LOVED LOVED LOVED this book! From the Vintage clothing to the story between Tess and Trey to the dual timelines, it was the most fascinating book I've read in a long time. I love historical books that go from back in the day to present day because it gives me the feeling of being there and as if I'm watching a movie or a TV show come to life."
…readers will find this story of a 1913 puzzle that draws a contemporary woman into the past to be thoroughly absorbing and hard to put down…Sandra L. Young crafts a divine story of contrasts in time, place, and purposes. Readers who enjoy engaging mystery spiced with sultry romantic overtones will especially appreciate the powerful presence of both in a story designed to simultaneously titillate and intrigue.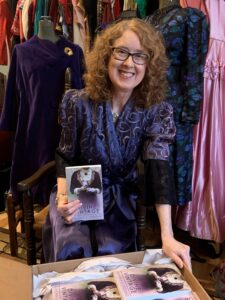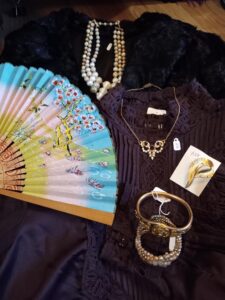 Devoted Vintage Enthusiast!
I fell head over heels for vintage clothing while acting in dozens of community theater productions. Through the years, I had fun growing my own sizable collection and I wear delectable items for special occasions and onstage. My finds span from balloon-sleeved Victorian blouses to fringed flapper dresses to 1980's funk. As the history and fashion spoke to me, they also drew out the seeds of a novel. I'm beyond thrilled that DIVINE VINTAGE has published to rave reviews! In the meantime, I continue to pursue my passions of singing, acting, and volunteering in the lakeside communities of Northwest Indiana. I also carve out time to read novels by talented fellow writers while crafting the sequel to my debut – featuring Divine Vintage shop assistant, Marcy Alexander. I hope you'll join me on this exciting journey to pay tribute to the wonder of vintage clothing!
Fashions from the pages of Divine Vintage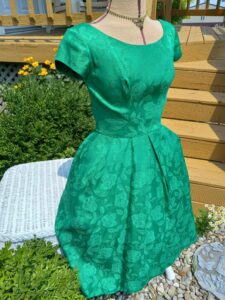 When Tess arrives at Carver House to model for the style show, she's greeted by Trey's mother in 1960s brocade. Clarice's sparkling personality and poise outshine this gorgeous number, which I picked up at our church treasure sale!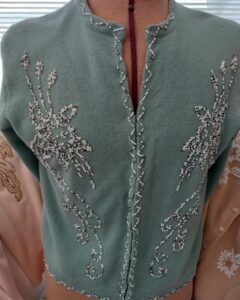 Beaded sweaters are mentioned several times in the novel. They're popular items at the store, leading Tess to buy a few when she visits an exotic city's flea market. (Guess where?!) I particularly love the pale aqua sweater above, which I bought years ago at an antique store.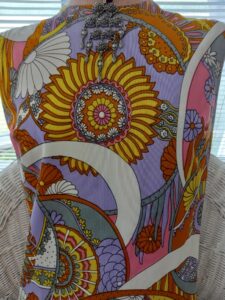 Tess' loyal assistant, Marcy, has bold, quirky fashion sense to mirror her artistic nature. She pairs this '60s mini with leggings and orange high-top sneakers. Actually, the polyester dress is knee-length and I put in a temporary hem to shorten it to max the cool factor. Readers will see more of Marcy's fashion in the Divine Vintage sequel.
Bookings: Vintage Presentations, Book Clubs, & Signings
Learn about the fascinating history of fashion since the Civil War Era. Clubs, organizations, church groups and museums have enjoyed this interactive program. I'm willing to travel within an hour to present in Northwest Indiana / Southwest Michigan – or to Zoom worldwide! I'd also love to visit with your Book Club or attend signing events. Please contact me at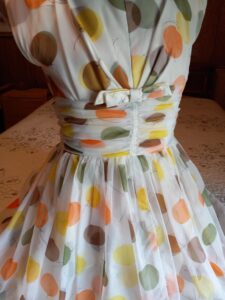 Share your email to receive a short story inspired by one of my vintage garments, for occasional author updates, and notice of giveaways. The first two-page story features the lovely '60s number in the photo! To read it, click on the link that pops up after you submit.